When my husband and I got married, we would always get each other underwear as our stocking stuffers. This was a guaranteed way to keep our sock, panty, and boxers fully replenished AND he could choose things that would be sexy for his eyes and I could choose things that are sexy to mine (YES! IT DOES MATTER WHAT MEN'S UNDERWEAR LOOKS LIKE TOO!!!).
Unfortunately, now, we have a 6 and 9 year old and sexy underwear is not happening in our non-existent stockings (only the kids have stocking these days). So, now, I have the dilemma of finding ways to keep my panty drawer (and his boxer drawer) exciting. I have looked into several ways to do this, mail order underwear boxes that send you cute undies monthly to just buying the value pack at Walmart--hey, don't judge me, if you choose the right ones, you would never know!! Here are some do's and don'ts for underwear upkeep.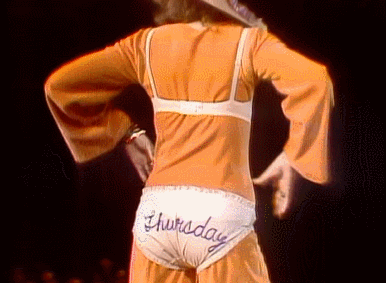 Do:
-Surprise your significant other with a pair or two throughout the year.
-Consider having underwear stocking stuffers and/or gifts on special occasions
-Keep some raggedy/comfy ones in the back for those times of the month and when you actually want full coverage.
-Use specific underwear to work out in, (that is if you wear them during working out)
Don't:
-Embarrass your kids with the big thong reveal at Christmas.
-Go to a consignment shop to replenish your undies
-Ask your mother in law to get you undies (unless she is as cool as GiGi)
-Ask your own mom to get you underwear unless you want granny panties " 'cause those other things give you yeast infections"
-Wear your good underwear hiking, they may not hold up!
Underwear Brand Favorites (not sponsored we just like them):
Lane Bryant size 12 and up- look out for their buy 7/$35 deal
Hanes her Way microfiber bikinis
What are your underwear rules? Make sure that you tune in to our podcast! You never know how we may surprise you!!